Avalyn went out in the jogging stroller for the first time today! We had so much fun!
I scored a deal last October on this baby, I was all of six weeks pregnant and it was the first purchase I made. I was also really, really scared that I was going to jinx my pregnancy and have a miscarriage because I was already buying things. Yeah, I really am that paranoid. Anyway, I found it for $20 on craigslist, even better it was only a mile away!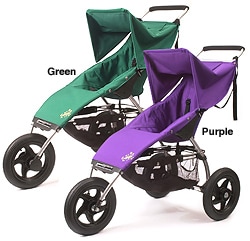 It was the green colored one, but the older model.
It needed to be cleaned, but thankfully it's all snaps so I threw the cover into the washing machine, and shined up the wheels and body, and it's as good as new. The only problem with it? It doesn't have a five-point-harness. This is a big deal for me, so I ordered a replacement belt for a Graco Snugride car seat and sewed it into the stroller. Voila! Five-point-harness and a happy Gwen for a grand total of $27. Woot!
Avalyn's a big fan! ;)